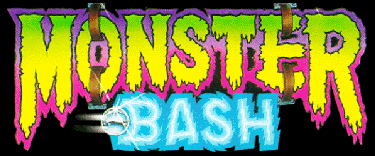 Monster Bash Pinball by Williams is
One of the most sought after games today!!!!
This one has been Home Use Only (HUO) for the last 13+ years. It was shopped 12 years ago
and kept in a smoke free home. Still looks and plays like new.
Included with the game is a new set of white rubber, (instead of the original color black rings)
and a new Lagoon plastic. This stuff is not needed at this time, but when it is you will have it ready to use.
This is an original, unrestored game in exceptional condition. These come up for sale very rarely.
I have added pincab protectors to the legs and a Cliffy protector at
the scoop to prevent any damage. See the before and after pics.
Any Questions, please Call /Text Keith
314-540-3782
Click on thumbnail for super size pic.
Cliffy Protector installed
before after before after
This game is for sale locally and I reserve the right
to end the auction early.
Local Delivery is $75 for up to 50 miles
SHIPPING
I ship by North American Van Lines freight collect.
That means you pay the shipping when it arrives.
Buyer is responsible for setting up the shipping arrangements.
Just call NAVL at 800-959-8880 and ask for e-bay team.
Ask for the special arcade game/pinball pricing.
I am in Missouri at zip code 63010
This also can be picked up at my home in person.